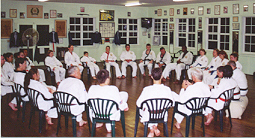 WELCOME INFORMATION
We would like to take this opportunity to "thank you" for putting your trust and confidence in our martial art school by being interested in our program. Making the decision to begin, or to continue, training in karate is an important one. The faculty of instructors, in addition to our assistant instructors and senior students, welcome you and hope that your experience with us will be a positive one.
The Director has been involved in the practice, study and instruction of karate since 1962.Our highly qualified faculty and staff have always been proud to display all of their certificates, degrees, ranks, awards and other related credentials.
We provide visitors and guests two free weeks of classes, without appointments, so that they can discover for themselves the benefits of learning karate at our school without any cost or obligation.
Following that we encourage students to enroll on a per month basis. We have separate adult and child rates with family discounts. Special provisions are provided for students enrolled in college, or for those individuals who can only attend classes part-time. This information can be obtained in detail upon request.
It is important that students make an effort to attend as many classes as possible. We will do everything available to make sure that everyone understands and appreciates the multi-level curriculum of classes we provide to our students. It is our hope and intention that each new class, and experience at our school, brings the benefits and advantages of karate, a stronger body and focused mind, in such a positive way that our students acquire the confidence and knowledge of being more safe and secure having learned good self-defense and personal safety.
Try not to compare or evaluate yourself to anyone else. The true and authentic martial art path is all about improving the self. Each student is encouraged to compete only with his or her own previous performance. In another way, each martial art student owes his or her progress to the dedication and help of others. As you progress through the ranks, you too may be asked to help, guide and instruct others. In this way we all become better at what we are doing in the Art of Karate.
Keep yourself informed. Take time to read and study the Student Manual when it is presented to you. Try to read and think about the information and messages contained in our instructional newsletters. Let us know whenever you will miss more than a few classes. And in the event you become discouraged, dissatisfied, or unable to continue for any reason, please give us notice of your departure.
As stated, the Lake House is an independent martial arts school. We keep our modest membership fees reasonable because we pay no overhead to organizations, associations or federations. Additionally, we do not require long term contracts that bind students and hold them liable once their interests change or they are no longer able to attend classes. However, we do expect our members to pay their membership dues on schedule, the first week of every month, or add a $5.00 late fee to their dues. A re-entry application and fee is required for students absent for prolonged periods without notice.
Classes are held on a regular basis, except for major holidays or threat of severe weather. Children's classes begin at 6:30 and run for 45 minutes. Classes for adults and advanced students begin at 7:30 and run for 60 minutes.
Each student is asked to sign in and record his or her attendance. The 6:30 junior classes are designed for children ages 7 –12, and we encourage parents to observe their children in our classes as frequently as they choose. However, several adults, mostly parents, routinely attend and practice another class held separately during this time. We welcome and
invite adults who attend the first class to also participate in the 7 pm class without additional cost or fees.
There are no hidden expenses at the Lake House. Uniforms, T-shirts and polos, are available for purchase at below retail prices. Any additional equipment requested by the student is provided at a discount as a courtesy to our members. There is one exam fee for each color grade level promotion which provides students with a new belt an advanced certificate, and other rank appropriate articles. Transfer students are encouraged to keep their previously earned ranks and belts but asked to wear the traditional white uniform.
Our Student Manuals explain policy and procedures in greater detail. An authoritative textbook on Tang Soo Do is available for purchase, and we also routinely meet and discuss general issues and concerns after class to keep our members informed and better educated about the martial arts.
In the event of frequent lack of attendance, or a failure of a student's responsibility to keep their membership obligations current during their absence, we hold these memberships to be considered "inactive" or expired without privilege.
An "active" membership requires dues to be paid in full whenever a student is away for brief periods of time such as family vacations or other such personal affairs. Many times a student will unexpectedly leave the program and return without notice. Typically they just wanted some time off, or chose to engage in some other sport or activity. In the case of children, they do not understand that their membership has terminated and their ranks may have become invalid.
For parents or guardians to ensure a child is enrolled as an active member of our school, we require that the membership be maintained at full value during a brief [one month or less] absence, or pay one half [1/2] of the current fees if the student is out for longer periods of time. In this way every
student can be assured that the membership agreement with us will remain the same.
In the event a student leaves and returns without maintaining his or her membership, then he or she will be subject to a readmission fee and be charged whatever rate increases may have been installed during their absence. Retesting may be necessary to evaluate their current skills and abilities to ensure that their ranks remain valid. Only active members will be considered for recognition, rank or promotions, and enjoy the privileges of membership.
It is our intention to provide the very best of martial art principles and practices here at the Lake House, and to help all of our students achieve their highest potential. We are proud of our record and reputation.


Additional classes, including self-defense and personal
safety programs, are scheduled and announced as needed.