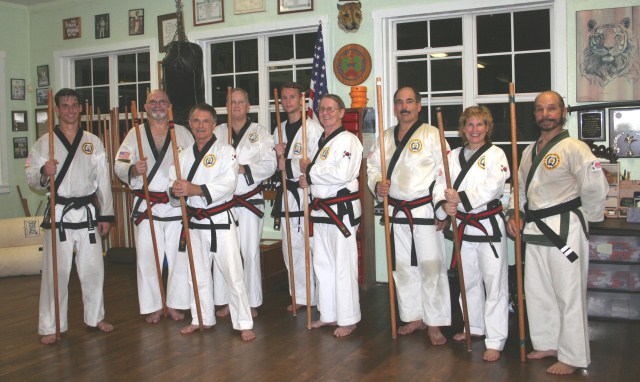 Our Faculty of Black Belts & Master Instructors with
the oak and ash wood staffs used for sparring and advanced training techniques.
Our faculty and staff of assistant instructors, Senior Instructors and Masters Instructors, have extensive years of experience and training in the traditional martial arts as well as being respected professionals outside the school in and among the fields of business, science, construction, computers and education.
The Director and his most senior instructors are Certified Teachers by the State of Florida, and this team of individuals brings a uniquely qualified range of skills and abilities to each class of students and to every individual so that the life-time lessons of karate make real and authentic sense to our students.


Frank Trojanowicz, #13333
International Senior Master, 8TH Dan
Technical Advisor/Management Consultant
Scranton, Pennsylvania
G. Morgan Becker, #19491
Director/Master Instructor, 6TH Dan
1989 World Tang Soo Do Association International Instructor of the Year
The Dragon's Breath Author & Publisher
OH DAN— 5TH Degree Master Instructors
Joan Therese Becker, #23127
Coordinator of Student Affairs
1988 World Champion W.T.S.D.A –Philadelphia, PA
The Tiger's Trail Author & Editor
Joe Cimador, LH9502
Joe Souza, LH0127
SAH DANS—4TH Degree Master Instructors
Sharon LeCroy, LH9301
Bob Benedini, LH9606
Neil Postlethwait, LH0328
Goju-Ryu Karate-Do Senior Instructor
Chris Fern, Consociate Instructor, LH9815 USN
Ashley Souza, LH0435
SAM DANS—3RD Degree Black Belts
Stephen Coss, Senior Instructor, LH0948
E DANS—2ND Degree Black Belts
Gary Gosselin, Consociate Instructor, LH9921 USN
David Roth, Class Instructor, LH0846
Jan Paul Petersen, Assistant Instructor, LH1151
CHO DAN—1ST Degree Black Belt
Justin Snyder, Assistant Instructor, LH1252
Dee Parrino, Assistant Instructor, LH1353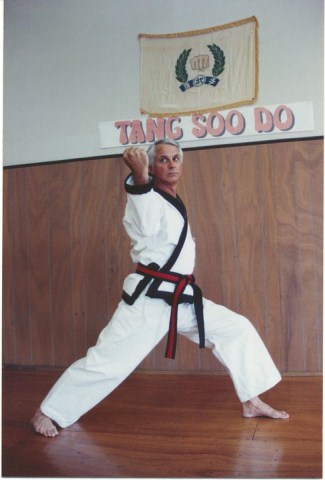 Historical picture of legendary International
Instructor Frank Trojanowicz, our Technical Director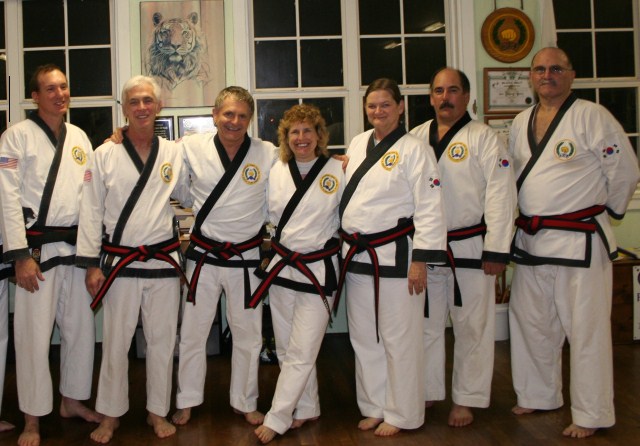 Senior Group of Black Belts and Master instructors.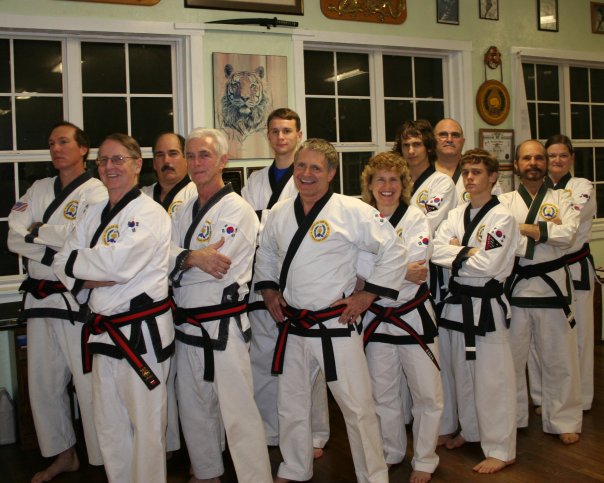 Our Black Belts and Master Instructors.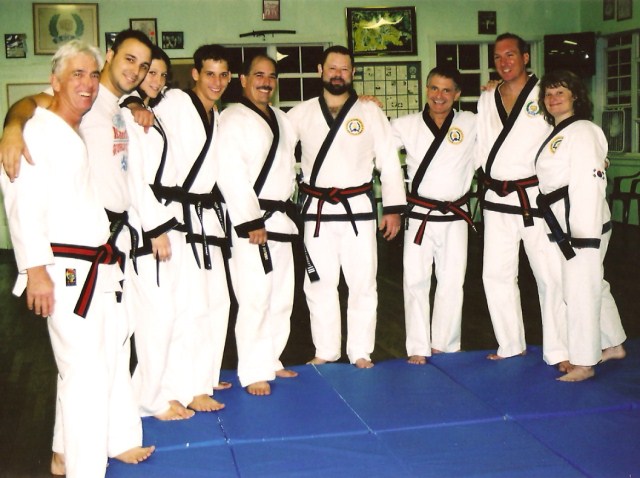 Instructors standing in unity after practicing self-defense.